Experience vs Emotion: Understanding UX/UI and Multimedia Design
Touro grad and Multimedia Specialist Francis De Leon explores the difference between two in-demand fields

By Elizabeth Laura Nelson
"UX/UI Design remains one of the most in-demand fields at the moment. Companies want well-rounded visual designers with experience in user experience and user interface design. Touro College's Web and Multimedia Master's Program prepares students by teaching them the latest UX/UI skills needed in today's competitive web and multimedia world."
- Dominika Juraszek, Web and Multimedia Program Chair for Touro's Graduate School of Technology and Undergraduate Digital Multimedia Design Program Deputy Chair
________________________________________________________
UX/UI and Multimedia Design are two of the most popular career paths in today's tech world. But what exactly does each of these roles entail, and what's the difference between them?
For students considering whether a career in UX/UI or Multimedia Design is right for them, understanding that difference is crucial. We asked Francis De Leon, a graduate of Touro Graduate School of Technology (GST) who now works at Touro as a Multimedia Specialist, to explain the fundamental difference between these roles, as well as the finer points of what each entails.
TechSpec: Let's start with the basics. What does UX/UI stand for, and how is it different from Multimedia Design?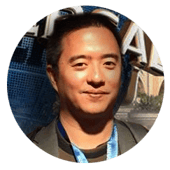 Francis De Leon: UX/UI is short for User Experience and User Interface, and multimedia simply means "multiple media" — in other words, the use of more than one medium of expression or communication, such as text, audio, animation, and video. Something like an app is always going to have a multimedia element, because it has graphics, sounds, etc. It's also going to be interactive — apps are designed to help users solve some type of problem. So which domain does an app fall under, UX/UI, or multimedia? It can be confusing when you really think about it.
To illustrate the difference between a UX/UI Designer and a Multimedia Designer, I like to give the example of a particular problem, and how each would approach it.
Let's say the United States hires a company to help people make healthy dietary choices during the Covid-19 crisis. The UX/UI Designer will conduct research to determine a specific problem that can be solved — such as lack of knowledge about basic nutrition, or not knowing how to cook. From there, they might develop an app that allows users to take pictures of the food in their refrigerator and get ideas about what to prepare with it, as well as the nutritional profile of those items. The UX/UI designer not only looks at the problem at hand, but also at the app's design, making sure it's easy to use, accessible to all, and aesthetically pleasing. The "UX" is the research part, and the "UI" is the interface.
A Multimedia Designer, however, might tackle this assignment from another angle. Rather than simply creating an app to solve the problem, they might think of ways to influence people to eat healthier, whether that's through an advertisement, a video, an installation, or even a game. They would use tools such as dramatic music, typography, interactivity and animation in order to persuade people to change their behavior.
Both of these approaches could be effective, and neither is wrong. Both are likely to rely on the same digital software and design skills to execute their idea. The difference is in the underlying philosophy. The UX/UI designer is all about problem-solving and innovation, while the Multimedia Designer focuses on storytelling and creating an immersive experience. They are targeting different parts of human psychology, and that's the distinction between a UX/UI Designer and a Multimedia Designer.
TS: Can you talk about the "UX" part of UX/UI? How does the user experience play into the role of UX/UI Designer?
FD: The user experience component is one of the biggest things that separates UX/UI design from straight Multimedia Design, because it's not about design at all. It's about research, data, and statistics. When looking at UX, designers look for the percentage of people dealing with a given problem, and the number of people who are likely to react to a design element (for example, a red button placed on the bottom right of a screen).
The UI piece is the visual component — how the visual interface is designed — but it's informed by the UX piece. The two go hand-in-hand. Dominika Juraszek, Touro GST's Program Chair for Web and Multimedia Design, sums it up this way: "UX designers need to think from the user's perspective, as it is about understanding user mentality, business goals, information, research, and creating a great experience. UI design deals with how the product's interface functions and looks, including visual design concepts such as color and typography."
TS: What would you say is the most fundamental difference between a UX/UI Designer and a Multimedia Designer, if you had to sum it up in a nutshell?
FD: The key difference is that the Multimedia Designer targets human emotion, while the UX/UI Designers targets human experience or interaction with a product.
TS: What would you say to someone considering studying one of these fields? What do they need to know?
FD: Here are a few links I recommend, for anyone interested in Multimedia Design and/or UX/UI Design:
How to Become a Multimedia Designer: Career Roadmap - Study.com
UX Design vs Product Design: What is the Difference? - Medium
What is User Interface Design? - YouTube
The best thing, though, is to attend one of Touro GST's Open Houses or online info sessions, which are a great way for prospective students to meet the instructors, find out about our programs, and get their questions answered.
Ready to find out more? Contact Touro GST today and get ready for your future.
---
Building the next generation of technology leaders, today.
The Touro College Graduate School of Technology provides its students a top-notch education, with competitive tuition and personalized attention in mind. For more information about our three industry-driven Master's degree programs, visit our next Open House (application fee will be waived).