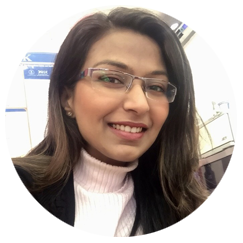 Learn more about Reshma's journey from teacher in Mumbai to data analyst in NYC—and how Touro is helping her succeed.
When Reshma, a kindergarten teacher from Mumbai, came to visit New York City in 2014, it was simply to see relatives and friends and explore the city. She never imagined that five years later she'd be living and studying there, embarking on a whole new career in the tech industry. Now a student at Touro College's Graduate School of Technology, Reshma is on track to earn a Master of Science degree in Information Systems with a Database Systems concentration. She also works part time as a graduate assistant in the school's marketing department, thanks to an opportunity the school offers to international students with F1 status.
While the journey from early childhood educator in India to budding data analyst in New York City hasn't always been smooth, Reshma says that, without a doubt, "It's worth it." Here's how she made the leap from early childhood education to the tech world—and how Touro is helping ensure her success.