Learn more about Reshma's journey from teacher in Mumbai to data analyst in NYC—and how Touro is helping her succeed.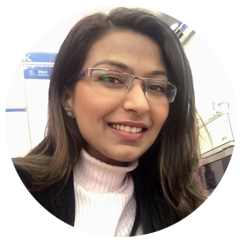 When Reshma, a kindergarten teacher from Mumbai, came to visit New York City in 2014, it was simply to see relatives and friends and explore the city. She never imagined that five years later she'd be living and studying there, embarking on a whole new career in the tech industry. Now a student at Touro College's Graduate School of Technology, Reshma is on track to earn a Master of Science degree in Information Systems with a Database Systems concentration. She also works part time as a graduate assistant in the school's marketing department, thanks to an opportunity the school offers to international students with F1 status.
While the journey from early childhood educator in India to budding data analyst in New York City hasn't always been smooth, Reshma says that, without a doubt, "It's worth it." Here's how she made the leap from early childhood education to the tech world—and how Touro is helping ensure her success.

From Teacher to Student
Although Reshma enjoyed teaching kindergarten, she'd always been good with numbers; she'd majored in accounting and earned a Bachelor's degree in commerce 10 years earlier. With the tech world booming, she saw a chance to put herself on a new path—one that might offer her more opportunity down the road.
"Databases are huge. They're used in marketing, production, everywhere you look," said Reshma. "I thought, since I used to study accounting, learning database systems would be a natural fit. While it's not completely related to what I used to do, there is a link."
And besides, she said, "I wanted to challenge myself and learn new things."
With the idea of a career change beginning to take shape, Reshma decided to research colleges and degree programs while visiting New York City. Friends told her about Touro, and after meeting Jack Romano, program director for Touro's MS in Information Systems program, she decided it was the right fit for her.

Ready to Tackle the Challenge
Since she wasn't coming in with a technology background, Reshma had some catching up to do before starting her degree program. "I took a few prerequisite courses—things I'd never done before, like programming, coding and C++. It was all new and a little bit overwhelming, but my teachers provided everything I needed," she said.
When she found the coursework challenging, Reshma's instructors were ready to assist her. Asking for help, she discovered, was vital. "All the information is available. You just have to take the initiative to seek it out."
Reshma said she likes digging into data, and especially enjoys SQL (Structured Query Language, for the uninitiated). "DDL, DML—those are languages for data design and data manipulation," she explained. "For me, that's the best part."
Although there's still a lot to learn, "I'm getting there," she said.

An Opportunity to Work
International students at Touro have F1 status, which allow non-citizens to attend school in the United States. However, F1 status has restrictions around employment. Touro offers international students the opportunity to work for up to 20 hours a week through their graduate assistant program—something Reshma is grateful to be able to do.
As a marketing assistant at the Graduate School of Technology, Reshma works with HubSpot, the CRM (Customer Relationship Management) system, troubleshooting campaigns, creating workflows and lists, and sending marketing emails. The role keeps her busy when she's not doing classwork, and gives her a chance to both have an income and gain experience in the field.
"Once I completed two semesters at Touro, I was eligible for CPT (Curricular Practical Training), which lets F1 international students work while they're enrolled in school," said Reshma. And she's happy where she is. "Touro offered me this position, and I'm going to continue working here," she said.

Personalized Attention Makes a Difference
Reshma got her undergrad degree in India, where, she said, "the teaching structure is different. Here, they keep you on your toes with quizzes and assignments." Keeping up isn't a problem though, said Reshma. With 10 or fewer students in each class, no one gets lost in the shuffle.
"I've had a great experience at Touro, because you get personal attention, one-on-one. If you need help, it's always available," she said.
There's also plenty of support when it comes to looking for a job. "The directors are very open to giving feedback on resumes and cover letters. They'll give you recommendations and help you practice your interview skills."

The Road Ahead is Bright
To Reshma, the future seems limitless. She has one more year to finish her degree at Touro, and then, because she'll graduate from a STEM program, she can be employed in the United States for three years without having to apply for a new status.
"After graduation, I want to find a position as a data analyst. I'll work in the US for those three years, and after that, who knows where life will take me? I'm open to working anywhere."
For international students considering enrolling at Touro, Reshma has one message: Do it. "When I came to New York City, it was initially a struggle. My documents were delayed because of a clerical error, and it took time to straighten it out. I wasn't sure which program to attend. I missed home. But everyone has to go through these kind of things, and in the end, it's all worth it."
Are you ready to find out what the future could hold for you?
---
Building the next generation of technology leaders, today.
The Touro College Graduate School of Technology provides its students a top-notch education, with competitive tuition and personalized attention in mind. For more information about our three industry-driven Master's degree programs, visit our next Open House (application fee will be waived).